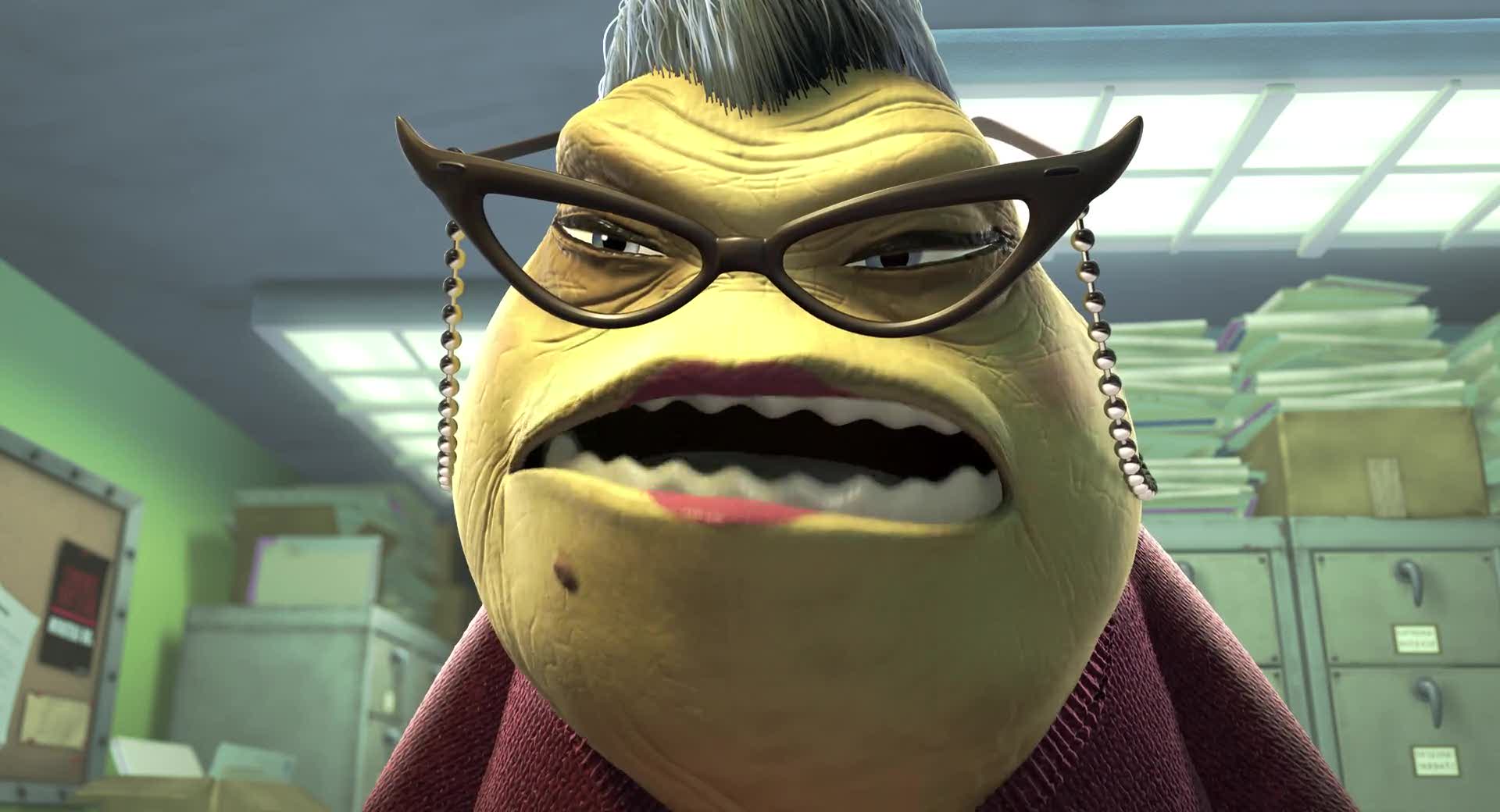 Personality
Roz is grumpy, especially to Mike Wazowski due that she is always bugging about paperwork.
Appearances
Roz is a slug-looking monster in the movie who appears to be the key master and administrator for Scare Floor F, holding all the keys to children's closet doors at Monsters, Inc. She is responsible for all of the paperwork done by Mike Wazowski, and she often works at an office near Scare Floor F that can be separated from the rest of the factory via a retractable shutter. Roz slams the shutter shut on Mike's hands at one point, crushing them and causing him to scream in pain.
In the end of the film, it turns out that Roz is Agent #000001 of the CDA. She gives Mike and Sulley five minutes to return Boo back to her room before anything happens to her. After Boo's door is shredded, Roz says that she doesn't want to see any paperwork about Boo's invasion contrary to her requests earlier in the film.
She is not seen again for the rest of the film, but frequently appears in the film "outtakes." One example is when she unexpectedly pops out of the toilet and startles Sulley, who has opened the bathroom door to get Boo. Another is when the CDA agents surprisingly find her taking place of George Sanderson, after he gets his fur shaved off and is showered. The third is when Sulley tries to show Boo that the closet is empty, only to find it occupied by Roz saying "Guess who!" In all three outtakes, Roz makes her infamous laugh, "Ahh-haa-haa!" and sends others bursting into laughter.
Celia is normally a kind sweetheart, especially to her boyfriend Mike. While she may have an explosive temper when angered, she can calm down almost immediately when she is told the truth by Mike. When she first appears, Boo is very attached to Sulley (calling him "Kitty"), but he is not so keen. But as the film progresses, he develops a bond with her. At one point, Sulley, under Mr. Waternoose's orders, roars in front of a child used for simulation, not noticing that he has also scared Boo. Sulley tries to apologize to Boo, but she is too terrified of him and runs to cower underneath Waternoose's legs. Waternoose, who has caught sight of Boo, decides to take care of her before anything worse happens. After he and Randall banish Mike and Sulley to the Himalayas, they proceed with extracting screams from Boo by using the Scream Extractor. However, Sulley arrives at the last moment to disable the device to free Boo.
Mike catches up with them, and they rush back to Scare Floor F, with Randall in hot pursuit. Randall chases them to a large chamber where thousands of doors to human world are kept. Mike and Sulley then make Boo laugh to activate the doors, then they go through them, exiting the monster world and entering back into it, in order to lose Randall and reach Boo's door. Just as it looks like Mike and Sulley have lost Randall, Boo suddenly slips off from Sulley's arms, and Randall reveals that he has caught her...